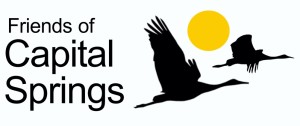 Support the Friends of Capital Springs Today
Your donation of any amount helps us with general operating costs and in support of our annual Harvest Moon Festival. Use PayPal the Paypal button below for a secure donation.
About the Friends
The Friends of Capital Springs Recreation Area supports the Capital Springs Recreation Area, a 2,500 acre centennial park located on the urban edge of the City of Madison.  Our mission is to develop and promote educational and recreational opportunities at Capital Springs Recreation Area.
Capital Springs Recreation Area, just south of Madison, Wisconsin, stretches from Fish Hatchery Road east to Lake Waubesa, encompassing the Capital City State Trail, Lake Farm County Park and Campground, Lewis E-Way, Nine Springs Creek and Lussier Family Heritage Center.
Friends of Capital Springs
3101 Lake Farm Road
Madison, WI 53711
capsprings@gmail.com
We organize educational and recreational events throughout the year – please contact capsprings@gmail.com to learn more about our activities.