---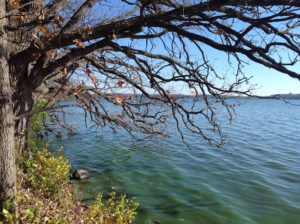 The Capital Springs Recreation Area (CSRA)
Just south of Madison, Wisconsin, CSRA is 2,500 acres of natural habitat and recreation, stretching from Fish Hatchery Road to the shores of Lake Waubesa.
Features
Enjoy the Capital City State Trail, Lake Farm County Park and Campground, Lewis Nine Springs E-Way, MMSD Wildlife Observation Area, Jenni and Kyle Preserve, Centennial Park, Nevin Springs, and the Lussier Family Heritage Center.
Our Mission
The Friends assist Dane County, the Wisconsin Department of Natural Resources, and other key partners in the implementation of the Capital Springs Master Plan. We connect visitors to the Park's diverse natural resources through educational, recreational, archeological, and scientific opportunities. To learn about our events throughout the year, please join our mailing list (contact capsprings@gmail.com) or visit our web site for upcoming opportunities.

Support the Friends of Capital Springs Today
Your donation of any amount helps us with general operating costs and in support of our annual Harvest Moon Festival. For your convenience, use the PayPal button below for a secure donation. Thank you!
  
Friends of Capital Springs
3101 Lake Farm Road
Madison, WI 53711
capsprings@gmail.com
---
2017 Events
JUNE 24 – Sun Observation, 1 – 3 pm (rain date: June 25) : Safely view the sun's surface with a telescope! Join astronomy-enthusiast Bob Terrell as he observes sun spots and solar prominences. Equipment is set up on the gravel parking area at Lake Farm County Park near the Lussier Family Heritage Center (3101 Lake Farm Road). All are welcome! See the flyer.
JUNE 25 – Barks for Parks! Dog Park Fundraiser at Wisconsin Brewery: Support the Lake Farm County Park dog park and all Dane County dog parks!  See the flyer for details.
JULY/AUGUST – Bird walk TBD
OCTOBER 13 – Harvest Moon Festival at Lussier Family Heritage Center in the Capital Springs Recreation Area: outdoor/indoor educational stations, live critters, music, food and silent auction.