With grants from the Natural Resources Foundation of Wisconsin and the Friends of Wisconsin State Parks, the Friends have developed two new educational resources for visitors to the Capital Springs Recreation Area!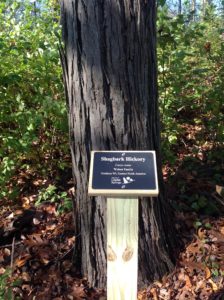 Be on the look out for tree species labels in front of trees found within the park.  The labels are attached to wooden posts and contain information on the species' origin. Labels are currently located at Lake Farm County Park and Capital Springs Centennial Park, both on Libby Road.
We developed a new Educational Trail Guide to use on the prairie and marsh trail directly behind the Lussier Family Heritage Center.  Stopping at eight posts along the mile trail, you'll learn about the natural and cultural history of prairie and marsh within this section of the Capital Springs Recreation Area. This is a great resource for all ages!Guides can be found with the Lussier Family Heritage Center entryway.  To save on printing costs, we ask that you return the Guide after your walk.  Thank you.