The Lewis Nine Springs E-Way contains large wetlands and sedge meadows, native forest and many large springs.  These features provide ideal habitats for a wide variety of vegetation and wildlife.
Features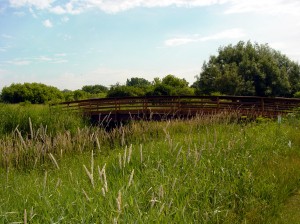 The Lewis Nine Springs E-Way Unit is a large area of land encompassing most of the other Capital Springs Recreation Area units within its corridor.   Thanks to the efforts of Dane County Parks, which has been responsible for acquiring and overseeing parcels of land within the E-Way since 1970, visitors have the opportunity to enjoy this unit through a six-mile system of intricate trails.
→  LEWIS NINE SPRINGS E-WAY TRAIL:  This trail, as part of the Capital City State Trail, is the key path for enjoying the E-Way as it meanders through a variety of native habitats within the Park.
→  MULTI-USES: Visitors use this trail system for hiking, biking, bird-watching, jogging, cross-country skiing, nature study, artistic pursuits and more.  Note the educational signage throughout the park.  Paddlers enjoy the Nine Springs Creek watertrail within the E-Way as well.
In addition to this main trail, the E-Way offers spur trails and a water trail along Nine Springs Creek.
SPUR TRAIL CONNECTING TO BAXTER PARK:  contains boardwalk to an existing clear span bridge over Nine Springs Creek for additional biking and hiking.
SPUR TRAIL CONNECTING TO INDIAN SPRINGS: visitors enjoy hiking and cross-country skiing on a mowed grass spur trail off of the Capital City Trail in the E-Way.
NORTHEAST SPUR TRAIL FROM CAPITAL CITY TRAIL:  offers a bridge that crosses the Nine Springs Creek and continues north and east, providing access to both Indian Springs and the trail to Baxter Park.  Deer archery hunting is allowed by permit.
WATER TRAIL ON NINE SPRINGS CREEK:  paddle from the Yahara River near Lake Waubesa to County Road MM and Rimrock Road on the Nine Springs Creek.    A paddle trip is a wonderful way to explore the E-Way!
Lewis Nine Springs E-Way Recreational Map
To Get There
A trail parking lot to enter the E-Way is located at 1947 Moorland Road, Madison.
To paddle Nine Springs Creek, use the following landings:  one is available at the end of Anderberg Drive and County Road MM, and the second landing is located off Mooreland Road at Capital Springs State Park.
History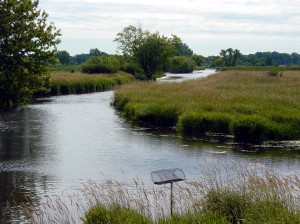 In 1969, the National Endowment for the Arts funded a proposal submitted by UW-Madison Professor Philip Lewis for the development of an environmental study model to "show how a community can identify and capitalize on existing natural and manmade resources in an effort to elevate environmental, ecological, and esthetic planning decisions to a higher priority within the community development decision-making process".
As a result of this vision, a seven-mile natural corridor along the south-central side of Madison was designated as "The E-Way", a natural laboratory used for the study of education, ecological, esthetic and environmental values.  Running east from the shores of Lake Waubesa at Lake Farm Park, to the west at Dunn's Marsh along Seminole Highway, the E-Way links large areas of wetland and sedge meadows, prairie, native forests, and many large springs flowing into Nine Springs Creek.
For more information about the Lewis Nine Springs E-Way and other areas of Capital Springs Recreation Area, please see the Capital Springs Visitor's Guide.