The Lake Farm County Park is a unit of the Capital Springs State Recreation Area.
To Get There
Exit US Hwy 12/18 at South Towne Drive and go south. Turn left onto Moorland Road.  Moorland will turn into Lake Farm Road. Campground entrance is on Lake Farm Road. To reach the Park and shelters, continue on Lake Farm Road and turn east onto Libby Road.
Features
Lake Farm County Park is Wisconsin outdoor recreation, natural habitat and history at its finest!   Recreational options abound at this 328-acre Dane County park boarding beautiful Lake Waubesa.
→ SHELTERS:  Lake Farm offers three open-air picnic shelter facilities for rent, two of which provide beautiful views of the Lake, along with playground equipment and lookout tower.  The Park also maintains hiking trails throughout the property, notably the Lake Farm Heritage Trail and Whitetail Trail (see map) offering views of the Lake, woods and prairies.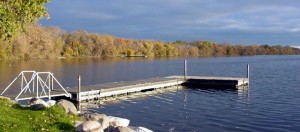 → BOATING:  If you'd like to spend time on Lake Waubesa and Upper Mud Lake, Lake Farm has a barrier-free boat launch, canoe/kayak launch and a fish-cleaning facility located at the end of Libby Road.
→ CAMPGROUND:  Lake Farm also offers a modern 54-unit campground.  Choose sites with shower/bathroom facilities or a group campsite for larger gathering.   To make reservations and a campsite map, go to please visit Dane County's Lake Farm Park site.
→ BIRD WATCHING:  There's no end to the natural beauty
and wildlife to be found at Lake Farm.  If you enjoy bird watching, be sure to check out Lake Farm Park during spring migration.  Visitors take pleasure in restored prairies, a wildlife pond, and two trails that meander through woods and along the shores of Lake Waubesa.   Be sure to take it all in from atop the Park's lookout tower.
→ ARCHAEOLOGY:  Lake Farm is of significant historical importance:  it's on the National Register of Historic Places as the Lake Farm Archaeological District based on archaeological evidence of ancient human inhabitants living on what is now Lake Farm Park land during the Late Paleo-Indian period, dating to 8,500-5,000 B.C.  Studies of the area suggest nomadic people made use of the rich food supply provided by the lake, marshes, and woods.  Hike the Lake Farm Heritage Trail (an easy 2.1 mile-long trail) with interpretive signage to learn more about these early inhabitants.
For more information about Lake Farm County Park and other areas of Capital Springs Recreation Area, please see the Visitor's Guide.